Residence in Austria - an Insider's Tip for a Safe-haven Place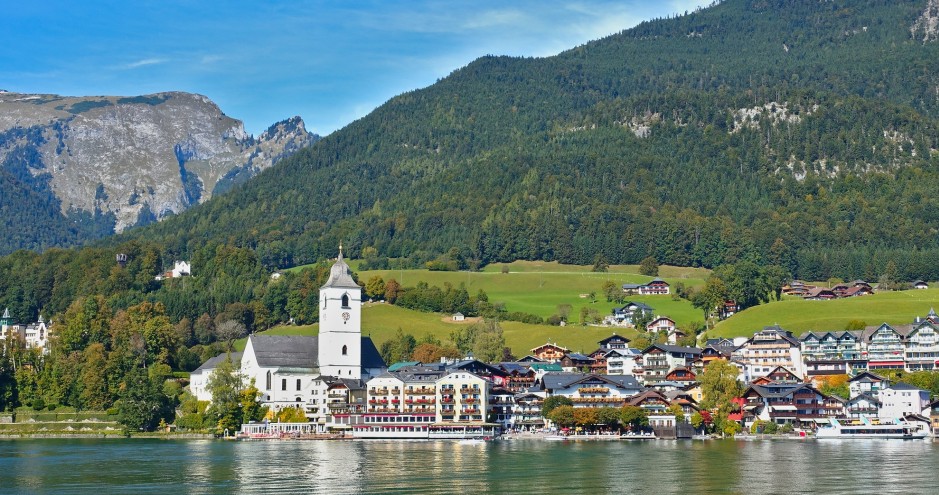 In the perception of most people, Austria is a charming, little country in the heart of the European Alps, a place with gorgeous mountains, wonderful lakes, magnificient historic places, the home of Mozart and unbelievable tasty cakes. You go there for skiing holidays on its sunny slopes, for spa treatment in its healthy thermal springs or to participate in one its important international conferences. But underestimated by many, Austria is also one of the world's top locations as a safe-haven, both for personal residence and for profitable investment, a top-rated economic powerhouse more rich than Germany, stable, secure and second only to Switzerland.
 
So, our readers may ask, what's the best way to obtain a long-term residence permit in Austria, and which differences exist if compared to Switzerland. Well, the main rule is the same in both countries: The only realistic chance for a non-European citizen is through a meaningful economic investment. But there are two substantial differences. The bad one: For the investor, the whole procedure is not as streamlined and coordinated like in Switzerland. It needs individual negotiations with a lot of different authorities, and a considerable amount of bureaucracy and red tape is involved. The good one: The investment amounts in Austria are considerably lower than those neccessary for Switzerland, approximately less than half of that.
 
As I live and work in both countries since long times, I know the differences and peculiarities of both jurisdictions at first hand, and will give you in this essay an in-depth view of all what matters if you are thinking about relocating to Austria.
 
Austria is more than "the little brother" of Switzerland
Austria and Switzerland are direct neighbours located in the heart of Europe, both are Alpine countries of approximately the same number of inhabitants, just under 9 million people, and are similiar in terms of lifestyle, nature and climate. Both are neutral, non-NATO countries and enjoy perfect travel connections worldwide. In normal times, there are 18 flights per day between Vienna and Moscow, plus a lot of additional flight links to other major Russian and CIS cities. Both are relatively small countries by international comparison. However with a size of 83.878 km² (about the size of Leningrad Oblast), Austria is twice as large as Switzerland by area.
 
When it comes to the quality of health care, eduction and personal safety, both countries offer the same, excellent standard. The political and social situation in Austria is stable. The government follows since many decades a policy of civil balance between the interestes of investors and companies and the well-being of the general public. The general attitude is to solve differences by compromise, not by confrontation, also in business life.
The financial stabilty of Austria is very good. It enjoys an excellent credit rating of "AA+", only one level below the world-record "AAA" rating of Switzerland, and clearly two levels ahead of the "AA-" rating of, for instance, Great Britain. Little known to many, Austria is also one of richest countries of the world, measured by the Gross Domestic Product (GDP) per inhabitant. According to 2018 data of the International Monetary Fond, the GDP per capita of Austria is 51.509 US$, clearly ahead of Germany with 48.264 US$ (for comparison: Russia 11.327 US$).
 
An important point for a Russian thinking about living abroad is the fact that Austria is a member of the European Union, which Switzerland is not. This makes it much easier for the investor to establish and run a multinational business inside the European Union, or take a secondary residence at the French Côte d'Azur or the Italian Riviera, if he later wants so.
 
The "Entry Fee" to Austria is less than half of that of Switzerland
As said in the beginning, Austria, like Switzerland, has no "Golden Visa" program. If you are a "third- country national", that means citizen of Russia, Belarus or other CIS-states, also in Austria the key to a residence permit is an economically useful investment. But the amount of money needed is much less than in Switzerland, and this holds true both for the business investment itself and the for purchase price of the real-estate property, where you and your family intend to live later on.
 
And like with Switzerland, a lot of "fake news" and false promises circulate in the internet. But I was really in shock, when I read some days ago in a - normally highly respected - Russian business newspaper that "it is enough for the candidate to prove that he has the means to live in the country" and investment requirements "do not exist at all".
To clarify, there is really a law in Austria which allows non-European nationals to apply for a residence permit without any investment. The conditions of this are layed down in the Austrian federal law "Niederlassungs- und Aufenthaltsgesetz" (NAG), that means "Law on settlement and residence", in §44 Abs. 1 NAG. You only have to prove a stable personal income of approx. 3.000,- EUR per month for a couple of two, plus a valid medical insurance. So far the nice theory.
But now comes the big BUT: There is a strict annual quota on the number of such permits. And for 2019, this quota was 38 (in words: Thirtyeight !) permits for applicants from the entire world! You may officially check this in the "Niederlassungsverordnung 2019" (Decree on Settlement 2019), which is available for download from the Austrian Government's website. To file your application, you must personally wait in line in front of an Austrian foreign consulate or the Magistrate office in Vienna in the early hours of January 2nd, and then try to rush in quickly at 8 a.m., before they close the gates again a few minutes later for the rest of the year. There are really people who try this each year, but real chances of success are mininal, it's better to play Lotto.
 
For a serious investor, there is a much more comfortable, and highly successful, official program which I want to explain you in this essay. With this program, and a good investment project, you will not only get a permanent residence, but also a profitable income in one of the world's most underestimated safe-haven places.
As an economically successful country, Austria is not interested to give a residence to foreigners simply for putting money into some state fonds. Purchase of residential real estate by non-EU nationals also needs a permit for each single case, albeit the rules are much more relaxed than in Switzerland, and does not count as an investment.
 
Austria welcomes investors, who invest in economically useful projects
However, also Austria welcomes investors, who invest in real economic activities and useful projects. If your investment is regarded as being of "special macroeconomic benefit", you can even expect active support from the Austrian authorities, both for the project itself and for your residence permit. And herein lays the key for a Russian person wishing to relocate to Austria.
 
The tool to achieving this is the so-called "Rot-Weiss-Rote Karte" (Red-White-Red Card, named after the national colours of Austria). It is a residence permit, which may be issued to highly qualified persons like physicians, scientists and other professional experts, to employees with special know-how in sought-after professions, to famous artists, to top managers of international corporations, and - now this is our case - to "self-employed key managers" ("selbständige Führungskraft") willing to invest in Austria.
The Austrian "Law on Employment of Foreigners" ("Ausländerbeschäftigungs-Gesetz" AuslBG) defines what this means. According to AuslBG §24 Abs.1, a self-employed key manager is a person who "transfers investment capital" to Austria and by this "creates or secures a number of jobs". These jobs must be of special value for the Austrian economy as a whole ("besonderer gesamtwirtschaftlicher Nutzen") or of "importance for a region" ("Bedeutung für eine Region").
 
Similar to Switzerland, the the decision to grant the permit depends on the authorities of the federal state ("Bundesland"), in which the investor wants to settle. Although not explicitly written in the law, regional authorities will of course also consider the tax revenue, which will be generated by your investment in the future. So it is important to carefully make up your mind, where in Austria you want to settle, and this of course will also influence the type of investment. An investor should also look at the smaller cities or rural areas, which in Austria offer perfect infrastructure and plesant living conditions too. And not only pursue a residence in Vienna, which even now has difficulties to accomodate all the people who want to live there, or Kitzbühel, which is at the limits of its investment capacity and doesn't need any more money. Especially investors with lesser amounts of money should consider the regions off the beaten track, and I can guarantee you, there are marvellous places to live in Austria, which are completely unknown to Russians.
 
The residence permit based on the Red-White-Red Card is issued in three steps to the investor: First, the card is issued as a temporary permit, valid for a period of two years. This is to check whether the investor really begins with the promised investment project and provides the funds he pledged in his application. If all is ok, then the card is prolonged for a second period, now three years.
 
If you really want to stay in Austria, you must learn German in the long term
Finally, after five years of residence, an unlimited permit may be issued ("Daueraufenthalt – EU"), which allows a permanent residence not only in Austria, but in all member states of the European Union. This permit does not need any more prolongations, it will be valid "forever". To get this, a proof of a working knowledge of German language at least according to EU standard "B1" is mandatory (fluent German in written and spoken in everyday life). But after living 5 years in Austria, even a language-lazy person should be able to pass this test.
The reason behind is because Austria puts a strong emphasis on social and cultural integration of its inhabitants, and does not want the development of ethnic ghettos. And for this, a decent knowledge of German is indispensable. While a lot of Austrians, especially in the large cities like Vienna or Salzburg, or in Austria's Alpine tourist centers, speak quite well English, you must be able to communicate in German, if you want to be accepted by the locals and to successfully participate in Austria's vibrant cultural and social life. Otherwise, you will always stay "the foreigner".
 
Immediately after you got your Red-White-Red Card as an investor, you may apply for a residence permit for the members of your direct family, that is spouse, children and also parents. For siblings, there is no such option. This permit, called "Red-White-Red Card Plus", has the same validity as your own card, and allows the cardholder also to work, either self-employed or as an employee elsewhere. Normally, this permit is a simple formality. However, there is a caveat: Before the permit is granted, a proof of German language at level EU "A1" (very elementary) is neccessary for your family members, except for children below the age of 14. But level A1 is really very, very basic, and I strongly recommend to anybody who wants to stay in Austria for a prolonged time to learn for this voluntarily.
 
How it works - a step-by-step process, which needs a guiding hand
The essential rules about the Red-White-Red Card and how it can be obtained are layed out in the two important federal laws about foreigners in Austria mentioned before, the NAG and the AuslBG. But like always, the authorities involved have a quite ample scope in the way they apply these rules, especially when to decide whether an investment project is "economically valuable" or not.
 
In addition to that, there still exists a lot of red tape and non-written traditions in Austria concerning how to communicate in a formal manner with representatives of official authorities, banks and law firms. Some of these traditions originate even from the Imperial times, and they are widely unknown and uncommon to foreigners. One example is the extensive use of academic and honorary titles, both in written letters and in the spoken word. For instance, when I have a meeting at a Vienna ministry with some senior officials, I will not be addressed as "Mr. Knappe", but as "Herr Diplom-Ingenieur" (like "Sir graduated engineer"), which is my official academic title. And I will call my counterpart not simply "Mr. Fartbauer", but very formally "Herr Hofrat" ("Sir court counsellor"), which is an honorary titel often awarded to high-ranking people in the public and political administration. If you don't obey these traditions, of course you will not sit in prison. But at least, you will be regarded as a "barbarian", and at worst you might have spoiled a contact which is critical to your project.
I don't know any other European country, maybe except Italy, where titles and formalities still play such an important role in business and administrative life like in Austria. Besides this, negotiations with the state and regional authorities also require a certain degree of diplomacy in Austria. To promote your project successfully, it is important to know when and in what sequence to speak with whom.
 
The first step of course is to make up your mind in which Austrian region you would like to live and what amount of money you want to invest. From the cosmopolitan capital of Vienna to the cultural metropolis of Salzburg, from romantic and sporty Alpine villages to the warm lakes and wineyards of Carinthia and Styria in southern Austria, where the climate is almost mediterranean, Austria offers a lot of places for a good living. And regarding the investment, this depends not only on your funds, but also on your appetite for risk, and if you want play an active role in it or maybe integrate it into an already existing business in another country. Both aspects are closely interconnected with each other. An investment idea, which works perfect in a big city may not be suitable in the countryside at all, and vice versa.

Now a detailed business plan must be prepared, which explains your investment project and how it will generate an economic benefit for the state or the region and what jobs will be created or preserved. This business presentation is of utmost importance, because on this the responsible authorities in Austria will base their decision whether to accept or reject your proposal. Keep in mind that this business plan must be in German language! Regional authorities and offices accept documents in German only, which is the official language in Austria.

In theory, you could now go with your documents to the nearest Austrian consulate in your home country, submit your application and simply wait what will happen. Indeed, this is the way it should be done in the case of an employee, who wants to work at an Austrian company. But for an investor, this is not the optimal procedure. The reason is the different way of assessment: For a qualified employee, the process is a quite formal one. He/she must achieve a pre-set number of "points", calculated on the academic degree, the profession, the experience, the language skills and the age (AuslBG §12, Attachment D), and the applicant must show an employer willing to hire him. But an investor, or "self-employed key manager", as it is called officially, doesn't need to collect any points. In his case, the points are irrelevant (AuslBG §24 Abs.1). Instead, he must bring investment capital and, most important, convince the state authorities that his investment project will be positive for the regional economy. And like with any important business project, this will not work by simply sending a stack of paper half around the world. For real success, there must be face-to-face negotiations with the appropriate regional officials, accompanied by expert support from a professional team.

To get your idea going and your residence application accepted, it is absolutely neccessary to keep all relevant parties in Austria involved in the process from the very beginning. This is my personal experience from decades of investment consulting, and this is the way Benesteem guides and supports our clients who want to move their residence to Austria. Generally, we develop two, sometimes three, different investment models and residence options for our client. Already in this early stage, we speak with all parties involved like the local mayors, the chamber of commerce (in Austria: "Wirtschaftskammer", WKO) and - very important - the "Public Employment Service Austria" AMS ("Arbeitsmarktservice"), and obtain their opinion about the planned projects. If the investment is large and of supraregional importance, we also contact the relevant federal ministries like department of economics, tourism or industry, and ask them for advice and political review. By this, we can see which of the projects would have the best chance for success, where we can expect the best support from local authorities and whether we should change some details or so. Also, the relevant political and administrative institutions will participate from the beginning in the decision-makeing process, which will prove very helpful later on, when the investor's application for residence must pass through Austria's somewhat entangled bureaucratic channels.

In this step, we also check whether and to what amount public subsidies and financial support might be available for the planned investment. Of course, the main share of the investment must come from the investor's funds itself. But there is a large variety of state subsidies, ranging from interest-free credits to outright grants, available from Austrian and European Union programs, especially if the investment takes place in rural or economically less developed regions.

Finally, it's time to formally submit the complete application documents, including business plan and proof of funds, to the district government ("Bezirkshauptmannschaft") of that region, where the investor wants to settle. This must be done by the investor in person. As a self-employed key manager, the investor has a big advantage. He may submit his documents directly at the appropriate district office in Austria (NAG §21 Abs. 2.7), and not only at a foreign Austrian consulate. This will speed up the whole process considerably, and relieves him from waiting for an appointment at the consulate. To do so, a Russian investor must hold a valid Schengen visa, or even more good, an Austrian national visa type "D", which allows him to stay in Austria for 6 months without interruption. But with our clients, this was never a problem in the past.

By law, the district government must decide about the application within a period of 8 weeks (NAG §41 Abs.3). In this time, the district government will request a formal statement from the AMS - see above -, whether the investment will have a "special macroeconomic benefit" and be positive for regional job market (NAG §41 Abs.2.4, AuslBG §24 Abs.1). This is the crucial point of the whole process: Should they say "no", your application must be rejected. Now you will understand why I put so much emphasis on early consultations with all stakeholders. After a positive decision, the Red-White-Red Card will be issued within a few days, and the investor may pick it up at the district office.
What I shall invest, and what profit I can expect ?
Now comes the favourite question of any investor: How much I have to invest, in what I shall invest, and what will be the profit? The first part is answered in AuslBG §24 Abs.1, but the answer is purely theoretical: 100.000 Euros. With such a small amount, it is in practice impossible to generate any substantial economic benefits or a significant number of jobs. Except maybe if you bring with you some patents or special know-how, and you are willing to actively work full-time in your new Austrian company. From my experience, the minimum is about 3 to 4 million Euros. With this amount, you can build or buy a meaningful business, especially in rural areas, which employs about 15 to 20 people, including an employed manager who runs the daily business, and which generates enough taxes to be regarded as "econonically beneficial". As most investors probably don't want to work themselfs in the new company, the investment must be large enough to justify some managerial role, such as a supervisory director, for the investor. Because to qualify as a "key manager", he must actually hold some business function too and exercise a controlling influence on the company. Simply being are passive shareholder is not enough.
 
The kind of investment itself depends largely on the preferences and funds of the investor, and on the business opportunities of the region, where the investor wants to live. Depending on your appetite for risk, this might be a commercial real-estate project, a private equity investment where you buy an already existing company, or even a venture capital funding of a high-tech start-up. There are no preconditions given by the law. You are free to choose what you like, as long as it meets the above mentioned criteria: economic usefulness, jobs, taxes.
 
Finally, an investment should also generate an adequate profit. An here, the Austrian model is clearly superior to many of the "junk-for-cash" programs of other countries, where you must put your money into obscure state fonds or real-estate of questionable value. First, you invest into one of the world's most successful and stable countries, into a real safe-haven. Second, by the very nature of the program, your business model will be checked by independant experts, which would reject any non-sustainable investment ideas. Of course, the entrepreneurial risk stays with you, as it is with any investment anywhere in the world. But if I look at the results from existing projects, you may expect a pre-tax profit of 6 to 8% p.a. from low-risk commercial real-estate, and between 15 - 20% from medium-risk private equity investments, in the long term. So, a quite nice ancillary income, which you'll get besides your residence permit ...